🔥CHRISTMAS SALE!
Enjoy 15% off everything site-wide—Code: CHRIS15
"See Through Me" 100W Transparent Fast Charge Cable
---
Specification:
Material: 24k gold plated/TPE plastic/nylon braided wire
Power: 30w
Transmission rate: 480Mbps
Length: 1.2m / 2m
Adaptation: All Apple systems adapt, IOS system is fully compatible with various systems and can be charged.
24K gold-plated interface is anti-oxidation and corrosion-resistant.The number of plugging and unplugging is about 20000+.Gold-plated connector thickened 15um
Reinforced design, 10,000 bending tests.Battery friendly.Double temperature control, fast charging does not get hot.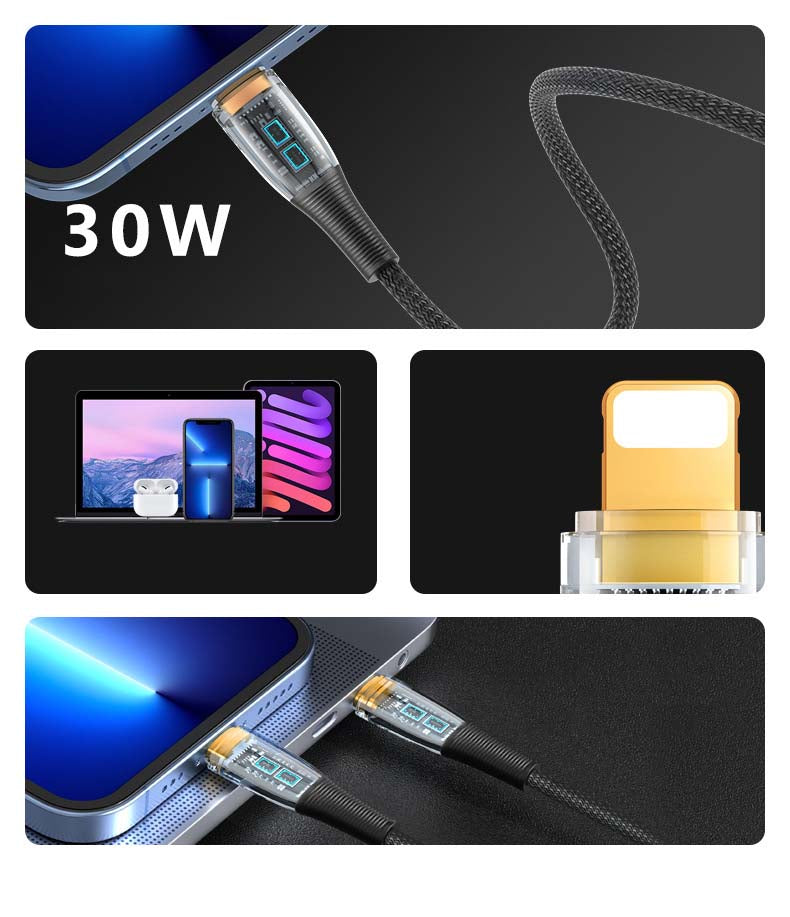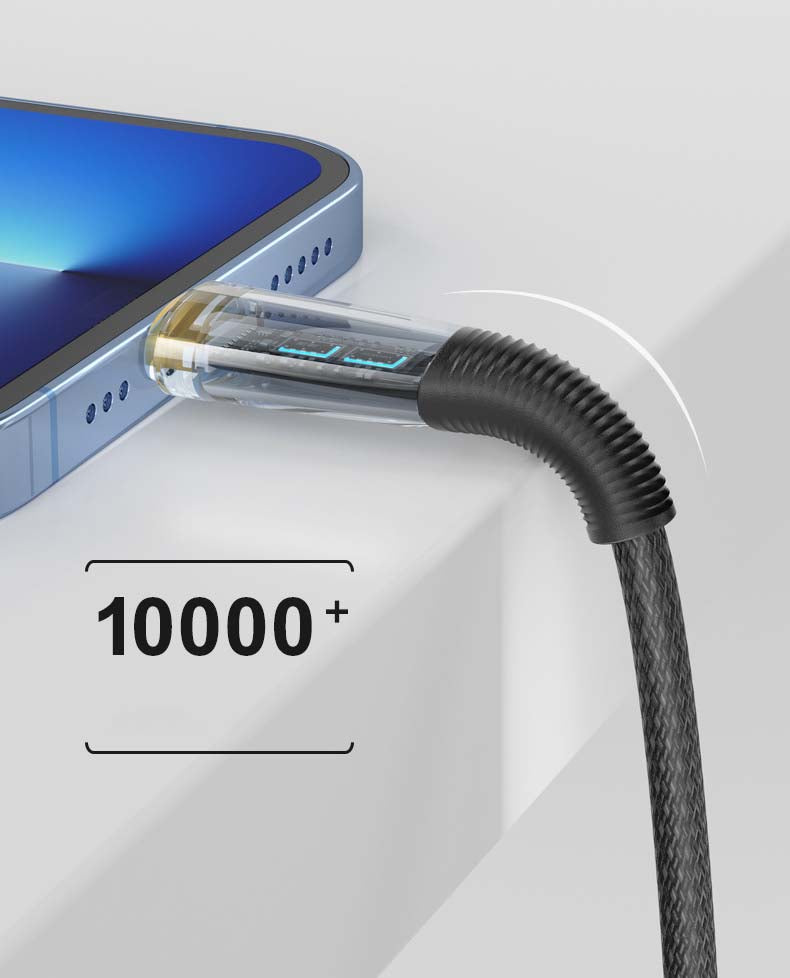 Charge and transfer at the same time.The speed is as fast as 480Mbps, and the large file of 1G can be transferred in 25 seconds.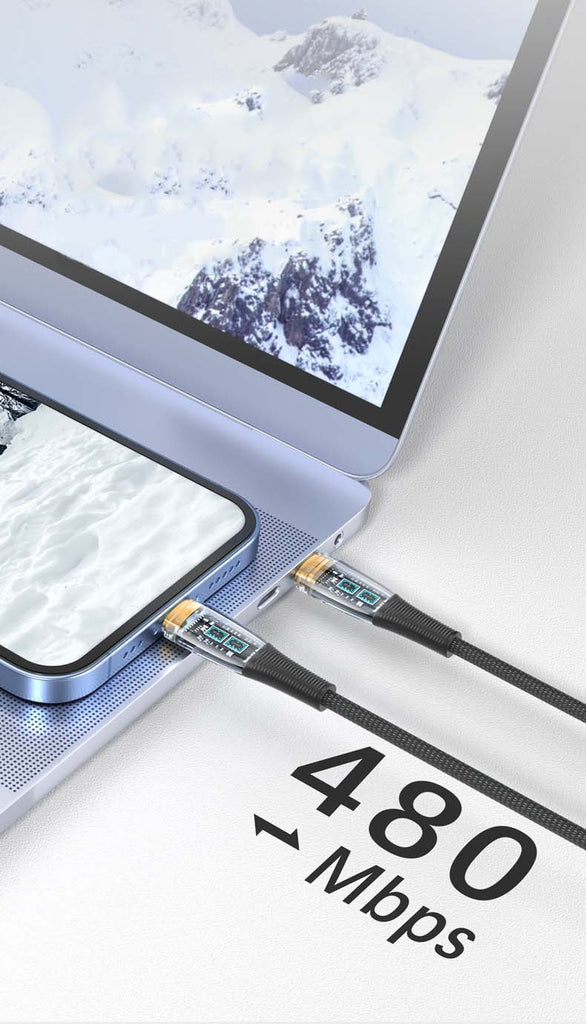 Nylon fine weave will not break.Not easy to break, not easy to deform, not easy to knot.
30W fast charge 6 times faster.163 tinned copper can easily carry large current.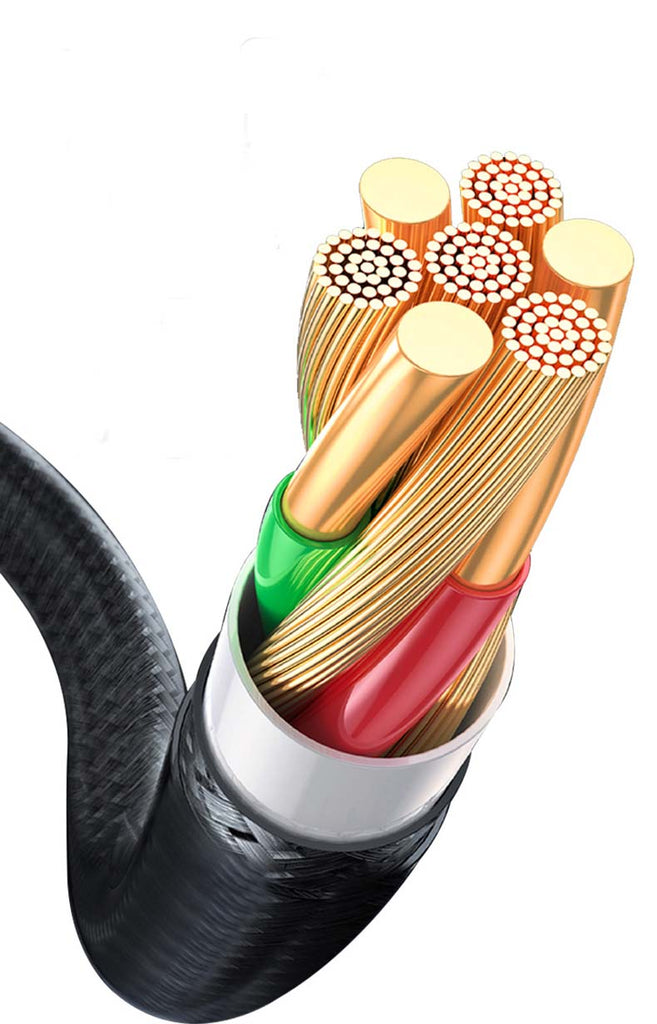 NOTE: To achieve the effect of fast charging, it needs to be used together with the fast charging adapter, and your device must support fast charging
PURCHASE GUIDE (Charging interface of equipment)
Type-C
Galaxy S series, Samsung Galaxy Note series, Samsung Galaxy Fold  series, Samsung Galaxy A series, Samsung W series.
HUAWEI Mate Series: Mate40, Mate50, Mate Xs2. HUAWEI P Series: P50E, P50, P50Pro, P50pocket.
HUAWEI nova Series: Nova8 SE, Nova9 SE, NOVA9,NOVA9 Pro. HONOR, XIAOMI, MEIZU, Mackbook
Samsung Galaxy A81/ A51 /A11,Samsung Galaxy S10/ S9 /S8 /S20 etc.Samsung Galax Note 20/10/9 /8, PS5 Controller
HUAWEI P50E, Nova 9 SE, Mate 40E Pro, nova 8 Pro, Mi Max 2, Mi 6, Mi Note3
(Connects USB-C enabled devices (MacBook, google Pixel, Galaxy Note 7,etc.) type-C devices (laptops, hard drives, power banks, wall/car chargers, etc.)
IPhone (Lightning)
Laptop, Personal Computer, Tablet, Smartphone.IPhone, IPhone 3G, IPhone 3GS, IPhone 4, IPhone 5, IPhone 5s, IPhone 5c, IPhone se, IPhone 6, IPhone 6s, IPhone 6 puls, IPhone 6s puls, IPhone 7, IPhone 7 puls, IPhone 8, IPhone 8 Puls, IPhone X, IPhone XS, IPhone XS Max, IPhone XR, IPhone11, IPhone11 Pro, IPhone11 ProMax, IPhone SE2, IPhone12 Mini, IPhone12, IPhone12 Pro, IPhone12 ProMax, IPhone13 Mini, IPhone13, IPhone13 Pro, IPhone13 ProMax, IPhone14, IPhone Pro, IPhone14 Promax, All series airpods, ipad.
Type-C to Type-C (C TO C)
Connect USB Type-C devices such as MacBook, Chromebook Pixel, Galaxy Note 7 to other Type-C devices like a smartphone, charger or multi-port adapter. IPhone and other types of mobile phones with type-c charging head.
Micro-USB
Galaxy S7 Edge/S7/S6 Edge/S6/S4/S3; Note 5/Note 4/Note3/J3/J7;Tab 4/Tab 3/Tab A/Tab E/Tab S2/Tab S/Tab Pro; G4/G4 Stylus/G3/G3 Stylus/G2/V10/K10; MP3 Players/Portable Charger; Other Micro USB devices

Compatible with all devices such as mobile phones and computers with micro-usb interface.
IPhone - Type-C (I

Phone PD

)
Tablet, Laptop, Smartphone, Personal Computer, Power Bank. IPhone 14/ 14 plus /14 Pro /14 Pro Max; IPhone 13/ 13 Mini /13 Pro /13 Pro Max; IPhone 12/ 12 Mini /12 Pro /12 Pro Max; IPhone 11 /11 Pro /11 Pro Max; IPhone XS Max /XS /XR /X /8 Plus /8; IPad Pro 12.9" gen1 /Pro 10.5"/ Pro 9.7" /Air3 10.5" /mini5 7.9" /mini6. All series IPhone, Mac airpods, Ipad. (The adapter is type-C)