"Chubby Plus" 2 IN 1 Fast Charge Cable (C+Lightning) - St. Patrick's Day Edition
---

We know single port is not enough for you. So we got you 2!
Meet our Chubby Plus, 2 in 1 retractable fast charge cable. Now you can charge your Iphone and Android gear at same time!
Specification:
Cable Type: Type-c, Lightning
Color: 7 colors
Length: 3.3ft (1m) - 4.9ft (1.5m)
Material: liquid soft silicone + superconducting oxygen-free copper
Power: 100/12W (Max)
Current: 6A (Max)
Compatible Devices: Laptop, Tablet, Smartphone, Speaker
NOTE: To achieve the effect of fast charging, it needs to be used together with the fast charging adapter, and your device must support fast charging

About charging:
- USB to Type-C: Up to 100w, support data transfer and charging.
- USB to Iphone:  Only for Charging.

Note: Iphone can not be charged at the same time when some Android phones activate super charging.

---
High quality material
: Super elastic silicone cover.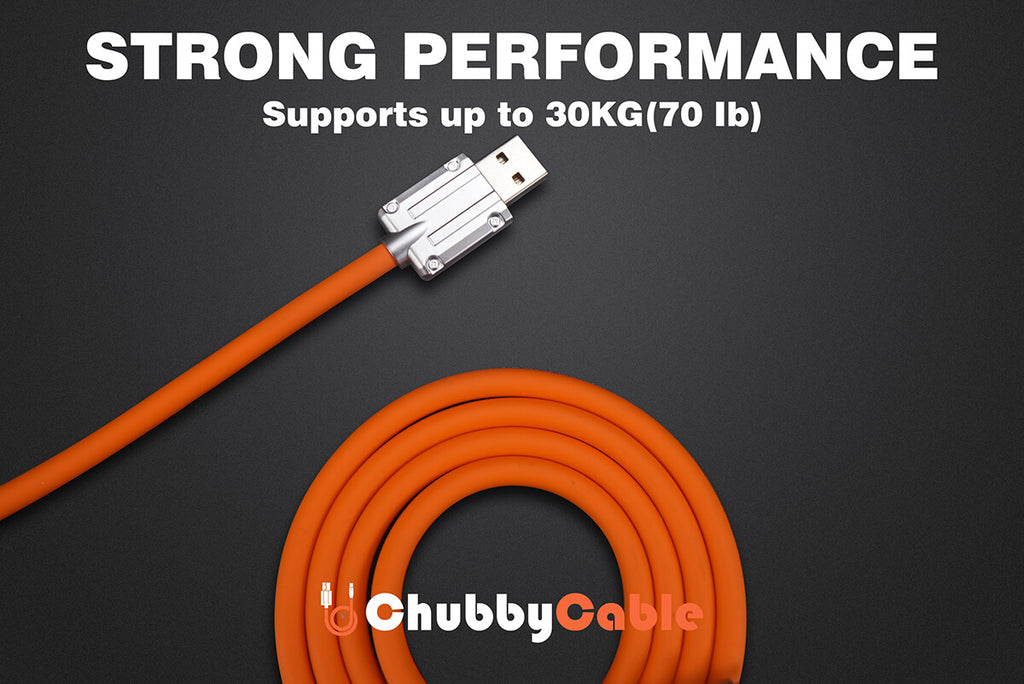 Retractable length: Suitable for different charging occasions.
Streamlined Design: Designed with USB-C, and Lightning. Simplify your daily carry by exchanging your tangles mess of wires for a single premium charging cable.

(Note: Length: The actual material of the wire is 150CM, and the spiral part is 8CM in the shrinking state.There may exist 5CM error)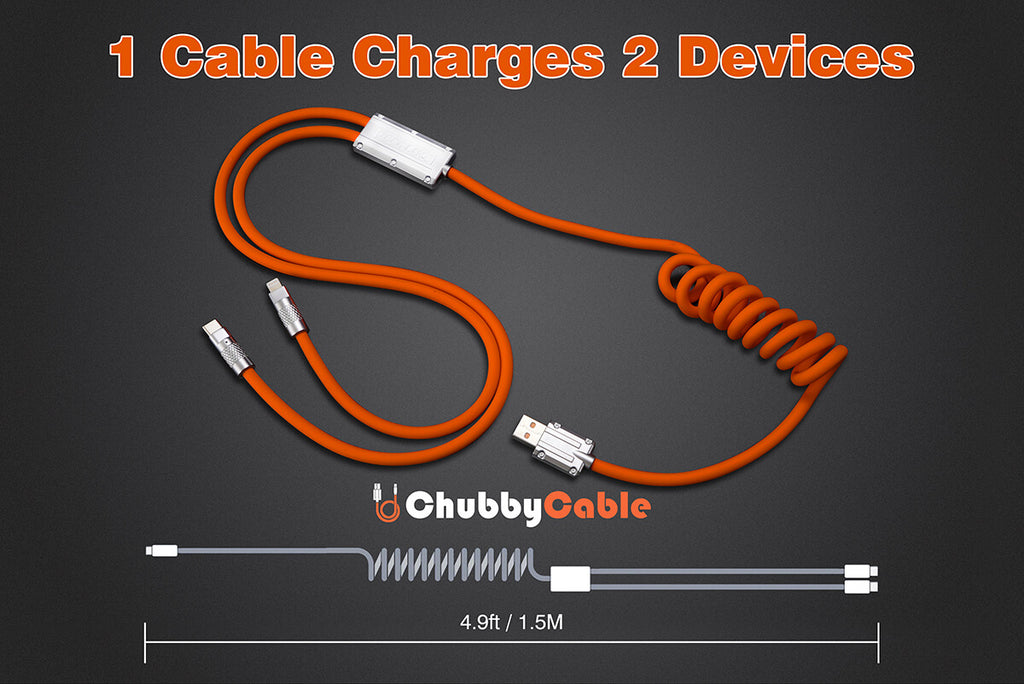 Wide Compatibility:Laptop, Tablet, Smartphone, Speaker

Counterfeit Product Warning

ChubbyCable is independently designed by ChubbyTech team.

ChubbyCable's innovation is embodied in its intellectual property, including appearance, patents, trademarks, and copyrights.
Chubbycable.com is now the only legal sales channel.

We cannot guarantee the quality assurance of counterfeit materials.
Such products are void of any Chubbytech product warranty.

Chubbytech assumes no liability for potential damages caused by using counterfeit products even if used together with genuine Chubbytech product(s).
PURCHASE GUIDE (Charging interface of equipment)
Type-C
Galaxy S series, Samsung Galaxy Note series, Samsung Galaxy Fold  series, Samsung Galaxy A series, Samsung W series.
HUAWEI Mate Series: Mate40, Mate50, Mate Xs2. HUAWEI P Series: P50E, P50, P50Pro, P50pocket.
HUAWEI nova Series: Nova8 SE, Nova9 SE, NOVA9,NOVA9 Pro. HONOR, XIAOMI, MEIZU, Mackbook
Samsung Galaxy A81/ A51 /A11,Samsung Galaxy S10/ S9 /S8 /S20 etc.Samsung Galax Note 20/10/9 /8, PS5 Controller
HUAWEI P50E, Nova 9 SE, Mate 40E Pro, nova 8 Pro, Mi Max 2, Mi 6, Mi Note3
(Connects USB-C enabled devices (MacBook, google Pixel, Galaxy Note 7,etc.) type-C devices (laptops, hard drives, power banks, wall/car chargers, etc.)
IPhone (Lightning)
Laptop, Personal Computer, Tablet, Smartphone.IPhone, IPhone 3G, IPhone 3GS, IPhone 4, IPhone 5, IPhone 5s, IPhone 5c, IPhone se, IPhone 6, IPhone 6s, IPhone 6 puls, IPhone 6s puls, IPhone 7, IPhone 7 puls, IPhone 8, IPhone 8 Puls, IPhone X, IPhone XS, IPhone XS Max, IPhone XR, IPhone11, IPhone11 Pro, IPhone11 ProMax, IPhone SE2, IPhone12 Mini, IPhone12, IPhone12 Pro, IPhone12 ProMax, IPhone13 Mini, IPhone13, IPhone13 Pro, IPhone13 ProMax, IPhone14, IPhone Pro, IPhone14 Promax, All series airpods, ipad.
Type-C to Type-C (C TO C)
Connect USB Type-C devices such as MacBook, Chromebook Pixel, Galaxy Note 7 to other Type-C devices like a smartphone, charger or multi-port adapter. IPhone and other types of mobile phones with type-c charging head.
Micro

-USB
Galaxy S7 Edge/S7/S6 Edge/S6/S4/S3; Note 5/Note 4/Note3/J3/J7;Tab 4/Tab 3/Tab A/Tab E/Tab S2/Tab S/Tab Pro; G4/G4 Stylus/G3/G3 Stylus/G2/V10/K10; MP3 Players/Portable Charger; Other Micro USB devices

Compatible with all devices such as mobile phones and computers with micro-usb interface.
IPhone - Type-C (I

Phone PD

)
Tablet, Laptop, Smartphone, Personal Computer, Power Bank. IPhone 14/ 14 plus /14 Pro /14 Pro Max; IPhone 13/ 13 Mini /13 Pro /13 Pro Max; IPhone 12/ 12 Mini /12 Pro /12 Pro Max; IPhone 11 /11 Pro /11 Pro Max; IPhone XS Max /XS /XR /X /8 Plus /8; IPad Pro 12.9" gen1 /Pro 10.5"/ Pro 9.7" /Air3 10.5" /mini5 7.9" /mini6. All series IPhone, Mac airpods, Ipad. (The adapter is type-C)