"Golden Chubby" Custom Gilded Fast Charge Cable - St. Patrick's Day Edition
---
New Design, New Tech, but still fast and secure charging!
Chubbytech has launched  gold-plated charge cables for you specifically! Adopted 120W BlitzCharge and gold-plating technology, so that the devices in the fast charging can be better for its heat dissipation. Super high performance and exquisite apperance are also the best choice for gifts!!
 Specification:
Material: Silica and oxygen-free copper
Power: Lightning: 27W (Max); Type-C: 120W (Max)
Current: 5A (Max)
Function: Charge and Data transmission
Length: 3.3ft (1m), 6.6ft(2m), 9.8ft(3m)
High performance: Charging and data transmission with ultra-fast 480mb/s.
Perfect for Your Phone:  Includes Lightning, and USB-C tips to charge any device.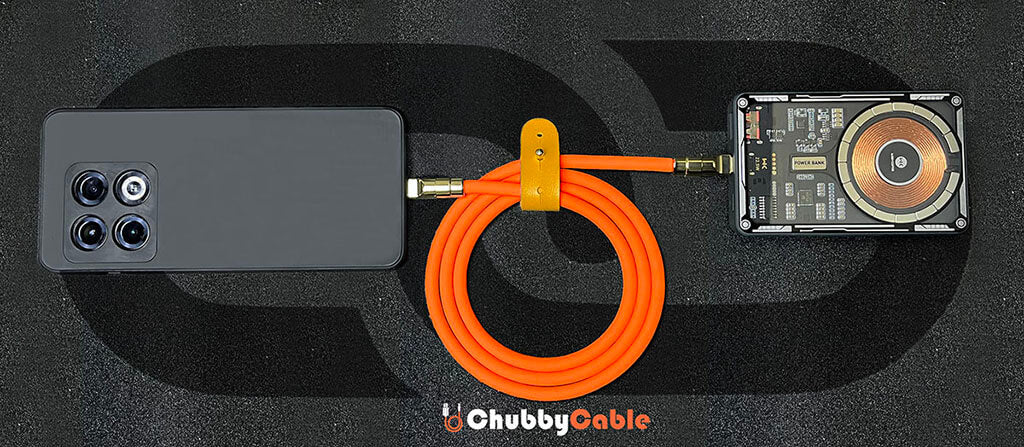 More Juice To Your Devices: With the 27W - 100W Max Output, you can spend less time charging your power-hungry devices such as laptops.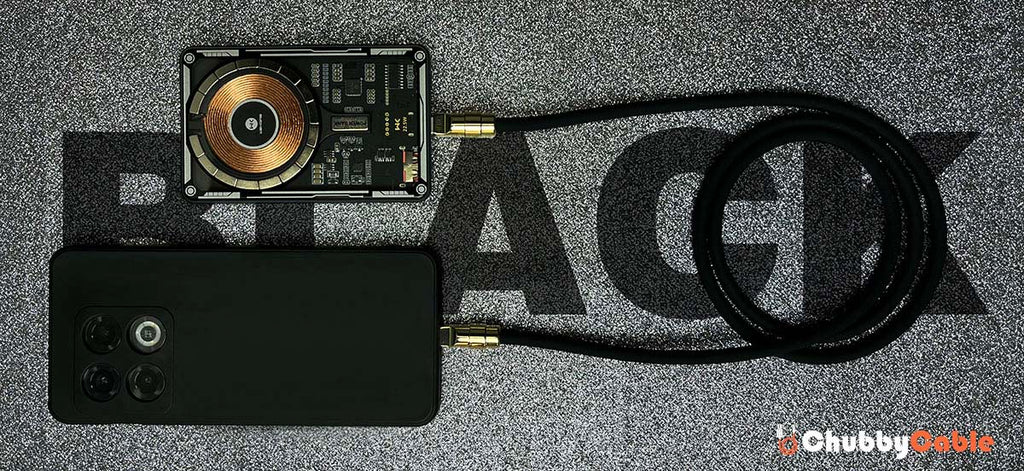 Build to last: Made of premium silicone and Superconducting oxygen-free copper, with over 40,000-bend lifespan, it's engineered for durability and everyday use.
4 Different Type Ports: Suitable for most devices.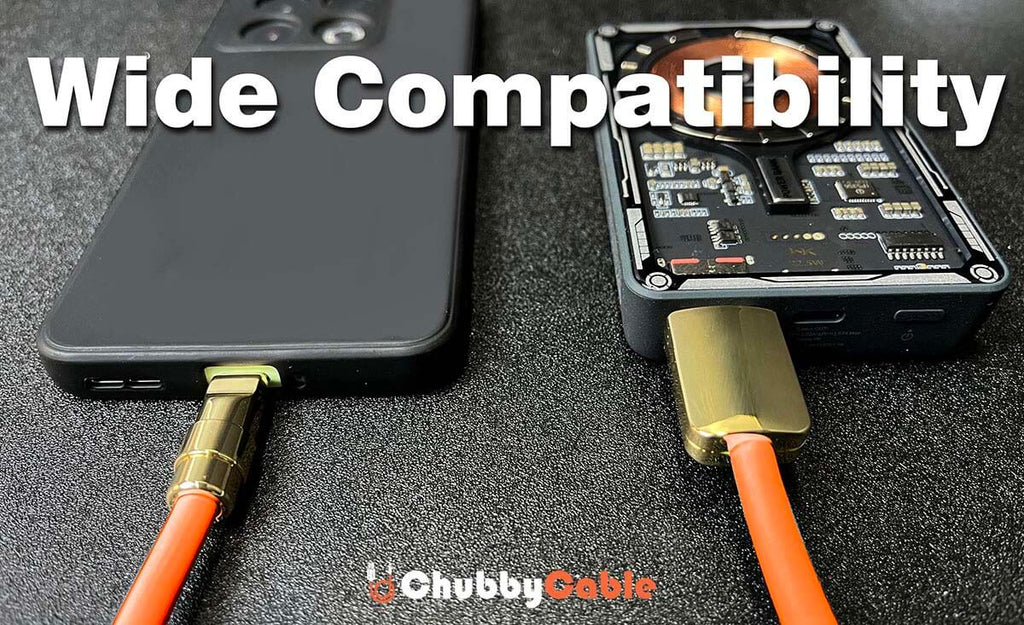 Counterfeit Product Warning

ChubbyCable is independently designed by ChubbyTech team.

ChubbyCable's innovation is embodied in its intellectual property, including appearance, patents, trademarks, and copyrights.
Chubbycable.com is now the only legal sales channel.

We cannot guarantee the quality assurance of counterfeit materials.
Such products are void of any Chubbytech product warranty.

Chubbytech assumes no liability for potential damages caused by using counterfeit products even if used together with genuine Chubbytech product(s).
PURCHASE GUIDE (Charging interface of equipment)
Type-C
Galaxy S series, Samsung Galaxy Note series, Samsung Galaxy Fold  series, Samsung Galaxy A series, Samsung W series.
HUAWEI Mate Series: Mate40, Mate50, Mate Xs2. HUAWEI P Series: P50E, P50, P50Pro, P50pocket.
HUAWEI nova Series: Nova8 SE, Nova9 SE, NOVA9,NOVA9 Pro. HONOR, XIAOMI, MEIZU, Mackbook
Samsung Galaxy A81/ A51 /A11,Samsung Galaxy S10/ S9 /S8 /S20 etc.Samsung Galax Note 20/10/9 /8, PS5 Controller
HUAWEI P50E, Nova 9 SE, Mate 40E Pro, nova 8 Pro, Mi Max 2, Mi 6, Mi Note3
(Connects USB-C enabled devices (MacBook, google Pixel, Galaxy Note 7,etc.) type-C devices (laptops, hard drives, power banks, wall/car chargers, etc.)
IPhone (Lightning)
Laptop, Personal Computer, Tablet, Smartphone.IPhone, IPhone 3G, IPhone 3GS, IPhone 4, IPhone 5, IPhone 5s, IPhone 5c, IPhone se, IPhone 6, IPhone 6s, IPhone 6 puls, IPhone 6s puls, IPhone 7, IPhone 7 puls, IPhone 8, IPhone 8 Puls, IPhone X, IPhone XS, IPhone XS Max, IPhone XR, IPhone11, IPhone11 Pro, IPhone11 ProMax, IPhone SE2, IPhone12 Mini, IPhone12, IPhone12 Pro, IPhone12 ProMax, IPhone13 Mini, IPhone13, IPhone13 Pro, IPhone13 ProMax, IPhone14, IPhone Pro, IPhone14 Promax, All series airpods, ipad.
Type-C to Type-C (C TO C)
Connect USB Type-C devices such as MacBook, Chromebook Pixel, Galaxy Note 7 to other Type-C devices like a smartphone, charger or multi-port adapter. IPhone and other types of mobile phones with type-c charging head.
Micro-USB
Galaxy S7 Edge/S7/S6 Edge/S6/S4/S3; Note 5/Note 4/Note3/J3/J7;Tab 4/Tab 3/Tab A/Tab E/Tab S2/Tab S/Tab Pro; G4/G4 Stylus/G3/G3 Stylus/G2/V10/K10; MP3 Players/Portable Charger; Other Micro USB devices

Compatible with all devices such as mobile phones and computers with micro-usb interface.
IPhone - Type-C (I

Phone PD

)
Tablet, Laptop, Smartphone, Personal Computer, Power Bank. IPhone 14/ 14 plus /14 Pro /14 Pro Max; IPhone 13/ 13 Mini /13 Pro /13 Pro Max; IPhone 12/ 12 Mini /12 Pro /12 Pro Max; IPhone 11 /11 Pro /11 Pro Max; IPhone XS Max /XS /XR /X /8 Plus /8; IPad Pro 12.9" gen1 /Pro 10.5"/ Pro 9.7" /Air3 10.5" /mini5 7.9" /mini6. All series IPhone, Mac airpods, Ipad. (The adapter is type-C)